Учебник насосы для бассейнов Areas of application, selection, setup, energy efficiency
by Sascha Korupp. Munich: Süddeutscher Verlag onpact GmbH, 2012. With the technical collaboration of Herborner Pumpentechnik GmbH & Co KG. 96 pages, 58 figures, 3 tables. Hardcover. EUR 8.60, ISBN 978-3-86236-040-6.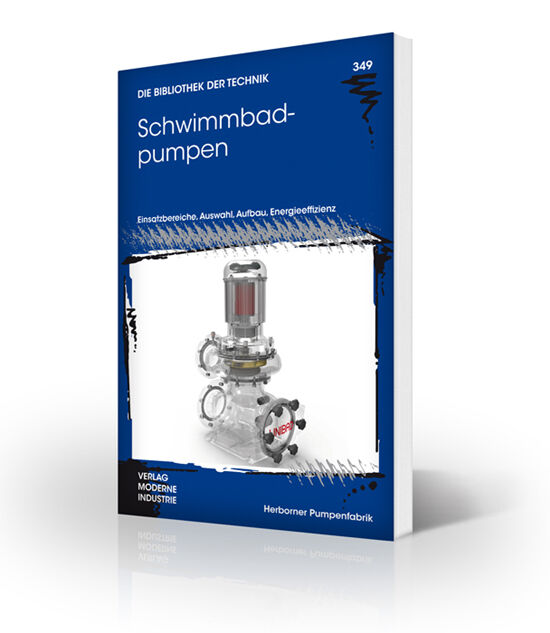 Anybody going to a swimming pool usually does not notice the running pumps. They are used as circulation pumps for swimming pool water treatment, as pumps for various water attractions or as pumps for waste water disposal but they are essential for a trouble-free operation of swimming pools and thus for swimming fun.
Pumps used in swimming pool technology are mostly centrifugal pumps driven by an electric motor. The choice of the components, which should be matched to the respective application is essential for the reliable function and service life of the pumps. The use of modern drive components such as frequency converters and energy-efficient motors that contribute to the reduction of the total life cycle costs are playing an increasingly important role.
Volume 349 of the series "Die Bibliothek der Technik" entitled "Schwimmbadpumpen" is intended to give an overview of the pumps installed in swimming pools. It describes important fundamentals, the structure of a pump as well as its correct installation in the system. One section concerns the selecting of the pump material, another shows the calculation of the total life cycle costs of a pump by the breakdown of the individual cost factors. The possibilities for cost reduction by using energy-saving drive components is explained in the final chapter.
The book can be ordered from:
Süddeutscher Verlag onpact GmbH
Phone: 089/2183-7262
Email: bdt@sv-onpact.de
Homepage: www.sv-onpact.de